Scammers contact international students in different ways. They usually make intimidating calls or send emails. Be familiar with their tactics and how you can avoid them.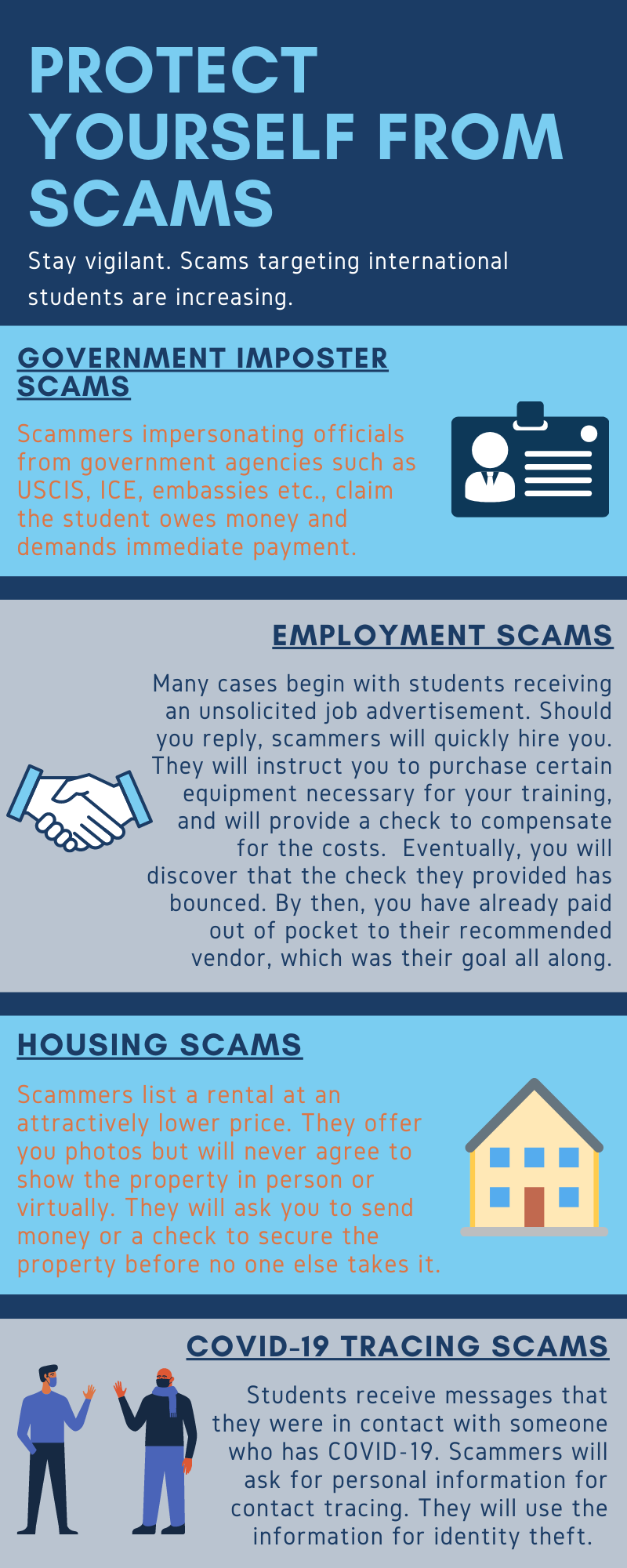 Case 1: A scam reported from Metropolitan Police Department
A Chinese student was scammed for a fake job posting. The suspect promised her a job and sent her a check for $2,000. Then the suspect asked the student to send back portion of the money. Several days later, the suspect's check was bounced.
Case 2: A scam reported from the Department of Homeland Security Office of Inspector General. Please see the press release for further details.
Here are some details on the scam tactic: "The perpetrators of the scam represent themselves as employees with "U.S. Immigration" or other government entities. They alter caller ID systems to make it appear that the call is coming from the DHS HQ Operator number (202-282-8000) or the DHS Civil Rights and Civil Liberties (CRCL) number (202-401-1474). The scammers obtain or verify personally identifiable information from their victims through various tactics, including by telling individuals that they are the victims of identity theft. The scammers also pose as law enforcement or immigration officials and threaten victims with arrest unless they make payments to the scammers using a variety of methods. The scammers have also emailed victims from email addresses ending in "uscis.org." Many of the scammers reportedly have pronounced accents."
Scammer Tactics
Call and demand immediate payment. Give students no time to think over or question.
Use intimidating tone in phone calls and emails.
Make students think that they are in trouble such as possible arrest and deportation.
Asks for personal information such as social security number, credit card number, bank account information etc.
Request payment through prepaid cards.
How to Protect Yourself
Do not share your personal and financial information over the phone or via email.
Do not send money or gift cards when someone asks you to do so over the phone or email.
If you receive a suspicious call, end conversation immediately. Always keep in mind: No government entity will call you.
Do not accept offers immediately if you think it is too good to be true.
Do not open any suspicious hyperlinks or emails from unknown senders.
Contact ISSS if you are uncertain or if you have any questions.
What Should I Do If I Get Scammed?
If you think you are the target of a scam, please contact ISSS at 202-319-5618 or email us at cua-isss@cua.edu.
If you think you have been the victim of a scam, call Public Safety Office immediately at 202-319-5111.